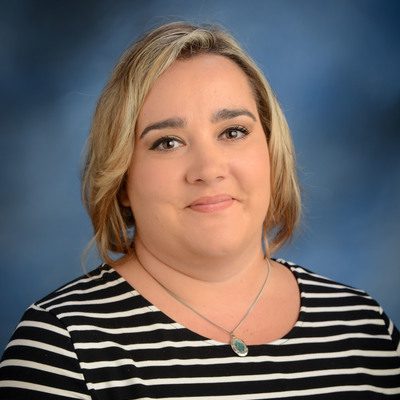 Kindergarten Teacher
Phone: (386) 445-2411
About Mrs. Da Mata
Hello! My name is Christine Da Mata, and I am very excited for this to be the best year ever for me and your children at SEAS! I was born in Wheeling, West Virginia in 1982, and was raised in Steubenville, Ohio. My mother, Jean Creegan, is an autotransfusionist, and my father, Sean Creegan, is the owner of a home construction business. I have two younger brothers, Sean Ryan and Kyle, and a baby niece/god-daughter, Isabella Carmella! I have lived in Palm Coast for ten years with my wonderful husband, Michael, and our three Hemingway cats. Though we have not yet been blessed with our own children, we have three beautiful godchildren and I am blessed as a spiritual mother to my students. I was working on my masters in Literature at Akron University after receiving my B.A. in English and Composition from West Liberty University when I met my husband and moved here. My life plans were very different from God's! I didn't expect to be married, teaching, or living in Florida, but God's plans were so much better than mine. Though I went to Catholic school, we didn't practice our faith at home or attend Sunday Mass very often. God put the right people in my life to lead and teach me the truth of my faith starting with my faithful maternal grandmother. I joined the Life Teen youth group at my church and realized the True Presence of Christ in the Eucharist. I have struggled on the narrow path ever since. Though I have been a member of the parish and its ministries since I moved here, I came to SEAS school three years ago after teaching 3 rd grade for four years at the Imagine School at Town Center. I taught 3 rd for a year here at SEAS, then looped up with my class and taught 4 th, then did a 4 th and 5 th ELA hybrid year, and am now back to just 4 th grade for this school year. I have always wanted to make a positive difference in the world and I fell in love with teaching wonderful students and working with their families to help their children become the best they can be. After a long journey, I am so happy to be home here at SEAS doing something I love and having the opportunity to serve my students and their families in my community.
My Teaching Philosophy
It is my goal as an educator to provide a safe and supportive environment for my students to freely be their unique selves, share their ideas, and grow emotionally, intellectually, physically, spiritually, and socially. I believe every child is capable of learning and growing, and I view it as my job to learn how each student learns so that I may present lessons in a diversified, participatory, and interactive way. I want my students to develop a sense of ownership of their education and of personal responsibility for their work and actions by personally tracking their grades and practicing owning the consequences of their behaviors. I strive to develop an atmosphere of mutual respect, foster good character traits, and expand positive behavior in a caring way by listening to my students, modeling respectful behaviors, celebrating their successes, and encouraging them in the areas they need practice. I try to listen to each student as an individual, and incorporate their life interests into their education. I also want to work with parents in the education of their children as they are their first teachers by communicating with parents about what we are doing in the classroom, being available to them, and sending home meaningful homework parents can do with their children.
For me, teaching provides an opportunity for continual reflection, learning, and growth. I hope to instill a love of learning in my students as I share my experiences and passion for working with children. I will always strive to be dedicated to each individual child and their needs as we share a wonderful educational experience together.
What/How I Teach
The Diocese of St. Augustine provides an extensive list of standards in all subjects for every grade level that the teacher must teach during the given school year. This is my foundation and touchstone for the information I will teach your child.
It is important to me to present information to my students in ways they can understand and learn. I present all of my information through PowerPoints for visual learners to be able to clearly see the information in words and pictures. Studies show that students retain information up to 70% more effectively if they take notes on it, so students take extensive notes in every subject. I present the information clearly for more auditory learners, and incorporate hands on practice, projects, and researching for students that learn better though touch or doing it themselves. It is also important to me to meet each of my students where they are in their reading and math levels and differentiate my instruction to either fill in any gaps they have, or teach them higher level content if they are ready for it. The goal is to meet them wherever they are and help them grow. At the beginning of the school year, I assess each child individually, look at their previous grades and work, and administer the STAR360 test that will give me a good idea of where to start. Though I have to teach and assess on the the 4 th grade level standards, students will practice in their homework and centers on their level. This past school year, I had students in 4 th and 5 th grade working on content from a 3 rd grade level to a 9 th grade level.
Reading – When I first started teaching, I underestimated the power of good novels. When I switched from skill passages to novel studies several years ago, I was blown away by how much the students enjoyed it and how much they got out of it. There is no reading skill that can't be taught through the use of an awesome novel, so that is the main focus in my reading classes. We read novels together as we learn and practice reading skills. We still use passages in homework and centers because they are leveled for the students and still an excellent way to  practice skills. K-3 is really learning to read, by 4 th grade, students should be switching to reading to learn and working on higher level critical thinking skills. We also work extensively on increasing our vocabulary with a program I designed to go beyond simple memorization, but actually have the words become a part of their long-term vocabulary acquisition.
Writing – In 4 th grade, we work on responding in our writing to material we have read, as well as several different types of writing styles such as narrative, poetic, opinion, informational/explanatory, and persuasive. The foundation for that is the practice of taking our work through the steps of the writing process, as well as a focus on proofreading marks and proficiency in cursive.
Math – Math skills are all about practice practice practice for mastery. I use the Saxon math program as a base for my lessons as they spiral the skills so the students continue to practice them. I also use several other resources and workbooks to differentiate my centers and several online sites for skill practice as well.
Spelling – I use the gradespelling.com program for spelling. At the beginning of the year, students take a placement test to locate their level and that is where they will start and I adjust as needed. Students have the opportunity to advance levels every quarter to continue their growth and challenge them.
Science – In science, we learn new concepts and take notes and then try to focus more on projects and labs for more hands on learning. Topics include the scientific method, the practice of science, properties and changes of matter, forms and transfers of energy, space studies, Earth structures, and plant and animal interdependence, heredity, and classification.
Social Studies – 4 th grade social studies in Florida is all about Florida! Students will learn about the geography, climate impact, and symbols of Florida; its history including Native Americans, early explorers, government, industry, immigrants, economics, and Catholic history, while using skills such as mapping, analyzing primary and secondary resources, researching, comparing, defining, describing, and presenting information.
Religion – Our religion studies focus on knowledge of the faith, liturgical and moral education, the Church as a community, missionary initiatives, teaching prayers, and biblical studies.